Unlocking a path forward for UUI
Transforming neuromodulation for urge incontinence
BlueWind Revi™ was crafted with the patient and the physicians who treat UUI in mind. Our advanced battery-free implant allows for the device to be miniature in size without the need for replacement surgeries due to battery depletion, lead migration, or lead fracture. Our innovative external wearable technology powers the implant for a patient-centric approach to therapy allowing for increases in energy and stimulation sessions based on the patients' needs, giving you the flexibility to ensure the best possible outcome.
In the OASIS study Completers analysis* (N=139) at 12 months, Revi demonstrated:¹
95% of patients were satisfied with the treatment.
82% of patients had a ≥ 50% reduction in UUI episodes.
50% of patients were dry at 12 months on 3 consecutive diary days.
Revi System's streamlined components
Revi Implant has a battery-free design, allowing it to be miniature in size at only 3 cm in length and 3 mm in diameter. This tibial implant delivers reliable and long-lasting performance in a compact form factor.
Revi Wearable is only 7.8 oz, delivering therapy at the patient's convenience, when, where, and how often they want. Multiple treatment programs allow patients to adjust programs as needed.
Revi Clinician Programmer allows for the customization of therapy based on a patient's response. Includes adjustment of frequency, pulse width, polarity, and amplitude.
Hub wirelessly communicates therapy data from the Wearable, allowing clinicians visibility into device usage and status to better support and optimize patient therapy.
The Revi Implant is MR conditional and is safe for 1.5T and 3T full body MR scans.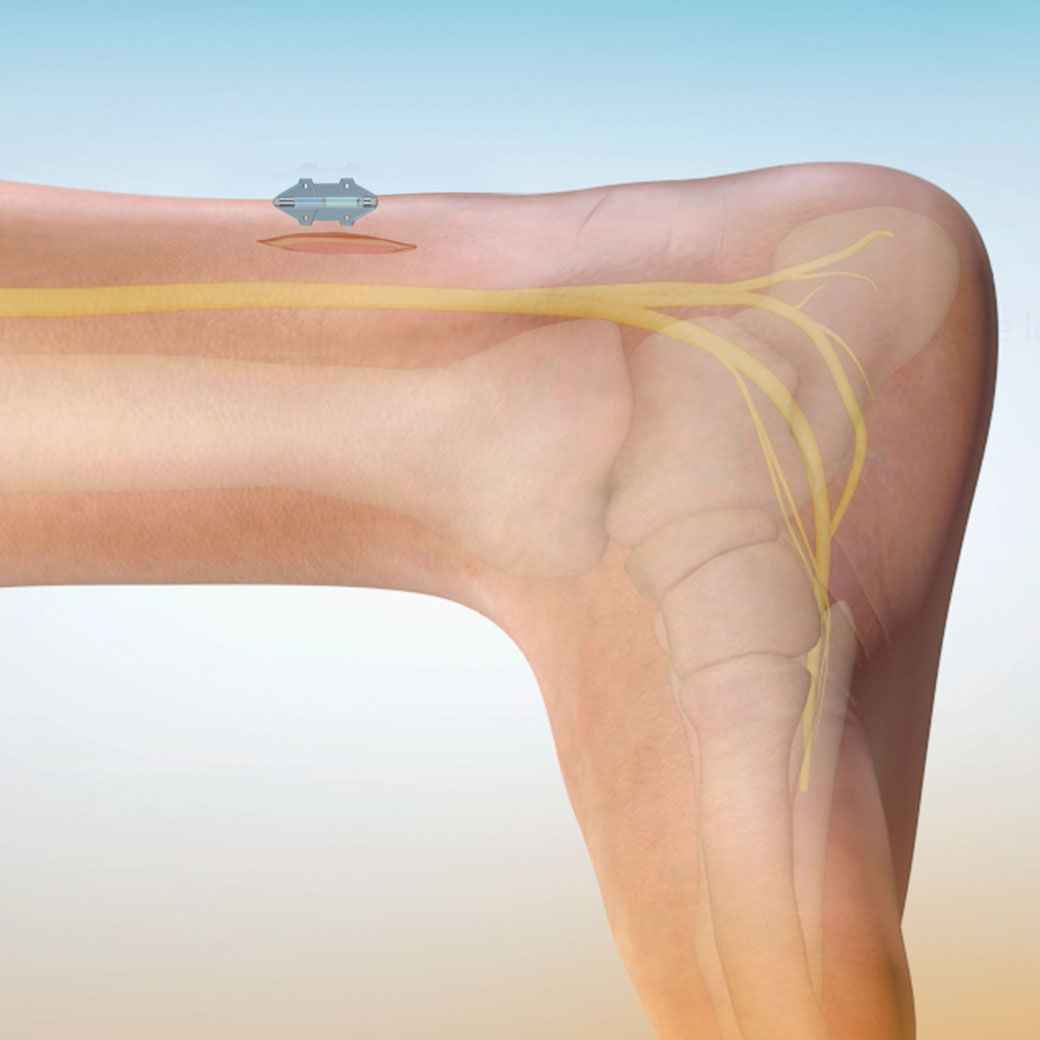 myRevi App
Designed to help patients stay engaged and streamline patient support. Revi's app-based tool provides:
Educational content to help inform and teach patients about UUI.
Online chat function to quickly answer questions and obtain system support.
Symptom tracking with surveys and voiding diary to monitor patient response.
Thoughtful design, miniaturized
This patented and novel miniature implant harnesses the power of modern wireless technology without the need for a bulky implant. It enables the battery to be externalized in the Wearable allowing for a more tailored treatment experience without concern for battery longevity.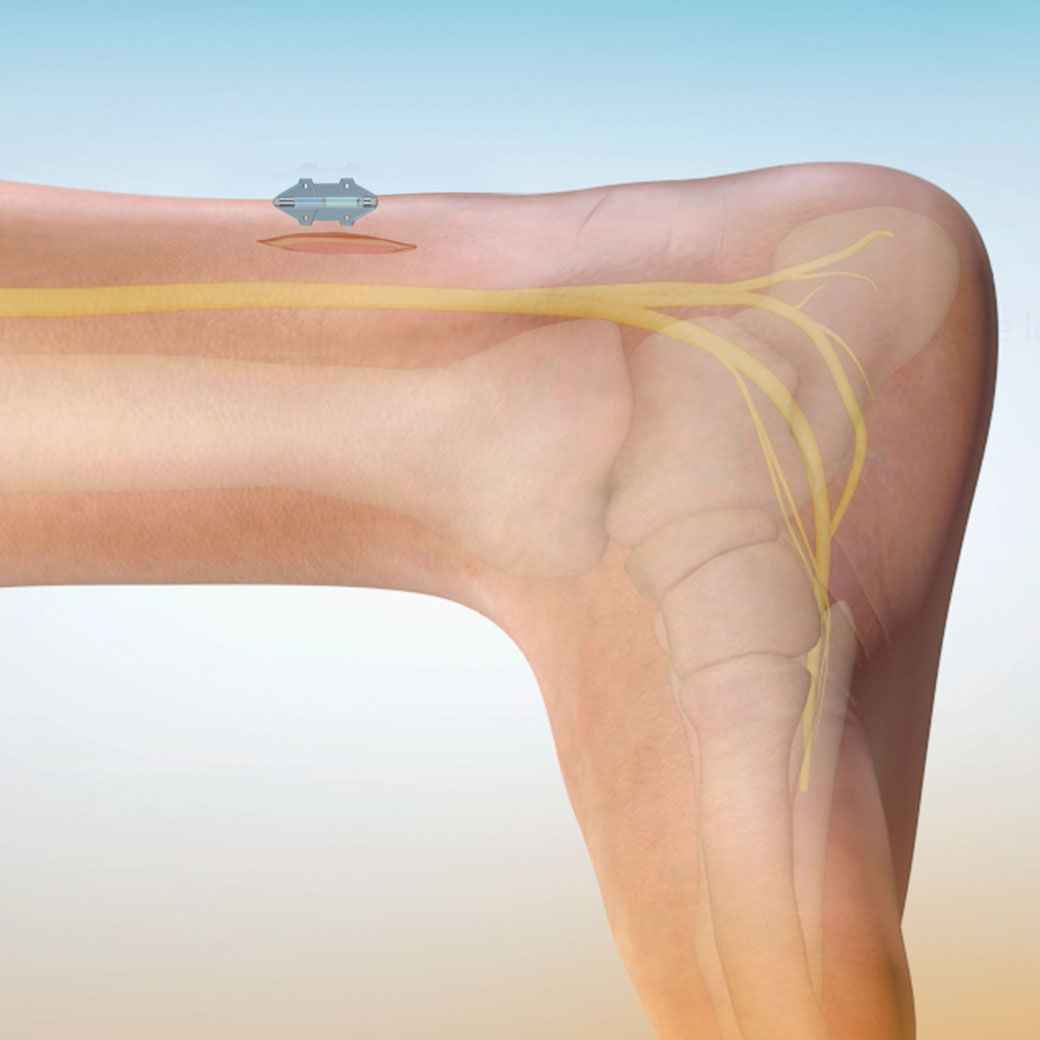 Single procedure, proven process
The unique implant placement and system design provides an alternative solution for patients seeking treatment:
Minimally Invasive. Battery-free miniature device implanted in a single predictable procedure under local anesthesia.
Confident placement. Subfascial placement allows for direct visualization of the tibial nerve. Intraoperative testing and suture fixation provides for more predictable outcomes.
Customized therapy. Optimized treatment based on patient response. Dashboard allows provider visibility into device usage.
Unlocking a
new path forward
BlueWind Revi provides a key to UUI symptom relief for many patients and the healthcare providers who treat them. Surgeons should follow current clinical guidelines as applicable and should use their discretion to determine whether the patient should fail or not tolerate more conservative treatments before using the Revi System. Stay connected to receive the latest updates about BlueWind Medical and Revi.
*Completers analysis represents the patients with available data at 12 months. Satisfaction results are from 130 patients.
For further information on the OASIS study and other on-going clinical studies, please visit clinicaltrials.gov (OASIS NCT03596671)
References
1. Heesakkers, J. et al. (2023, April 30). Pivotal Study of a Novel Wirelessly Powered, Patient Tailored Programmed, Tibial Neurostimulator for the Treatment of Patients with Overactive Bladder. AUA 2023.